With an early start to the day (0500), back up to the north, the CTD was in the water.
The trawl was in and fishing by 0600 for a three hour tow.
At 0900, the tow came up and was as expected with a nice concentration of post-smolts although they are quite small.
The trawl went out again for four hours on the second tow but the haul had far fewer fish than anticipated.
With that in mind, we steamed north a bit for the third tow.
We are kind of zigzagging along a contour in order to find higher numbers of post-smolts.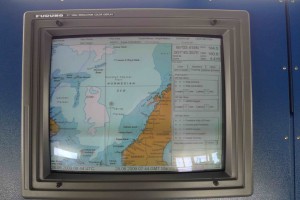 After ending the day with a smaller number of post-smolts, we are steaming farther north to sample tomorrow into the northerly current.  We should be above 68°N in the morning to begin sampling so in fact our first proclamation of the northernmost point of the voyage will be incorrect. 
The day was filled with quite a bit of wildlife though.  We saw a few sperm whales cruising on the surface in addition to two minke whales and a fin whale.  There are quite a few fulmars following the ship as well. 
Sperm Whale Fluke
A fulmar soaring past the ship
I am quite excited to be heading so far north.  Perhaps we will get some sunshine but the fog is rolling in so it is not looking promising.